Berghüttn Pruggern is specially designed to offer plenty of space for large groups. Even with full occupancy of 25 people, there is 19.2 m² for every guest, and with normal occupancy of 22 people, it's 21.8 m²!

 
The rooms offer generous storage space for everything you need for a successful holiday. Most of the house has underfloor heating, and there are radiators in the bedrooms. All room doors and furniture were made by hand from historic wood. There are high-quality thermostatic fittings in all showers.
On the ground floor at the entrance area with cloakroom and drying room you will find the Peppi apartment on the right, which, separated from the other living areas, offers space for 3 guests. The apartment is equipped with a bedroom with a double bed and a loft bed, and a bathroom with shower / toilet.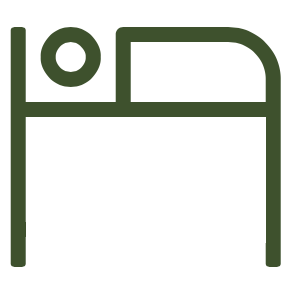 There is also a small hallway in the apartment and a cosy lounge, which is often used as a small common room, since it has its own kitchen and the seating area there can comfortably accommodate 8 people.
Once you have taken the stairs to the upper floor, Berghüttn Pruggern offers a spacious balcony, the Vroni1 and Vroni2 rooms, as well as a two separate twin rooms. These two rooms have their own bathroom with shower / toilet.
The Franzl and Zenzi rooms each offer three sleeping options with a comfortable double bed and a loft bed. The bathroom with shower and a separate toilet for these two rooms is located in the corridor opposite the two rooms.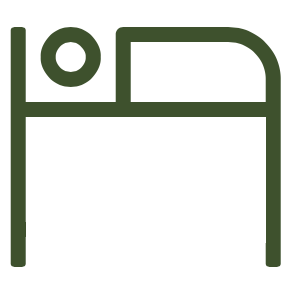 On the other side of the staircase, you will come to the former private area of the Berghüttn, which today is freely usable like all the other rooms in the house. This also offers even more comfort and freedom for you and your companions. On the left, an anteroom leads you to the bathroom with shower and to a separate toilet, specially built for this part of the house. Straight ahead is the second common room of the house, equipped with a full kitchen, a cosy seating area for up to 8 people and a sofa.

 
Somewhat hidden, right next to the dining area, is a small staircase that leads to part of the attic. There is a room with two single beds on the right and a room with a double bed and a single bed on the left.
Back on the main staircase, if you follow the stairs up one more floor to the attic, you will find - correctly - even more space! The Maxl1 and Maxl2 rooms are each equipped with comfortable double beds and, if required, also offer two cosy loft beds with space for a total of 3. These rooms are ideal for teenagers. This area has its own bathroom with shower / toilet.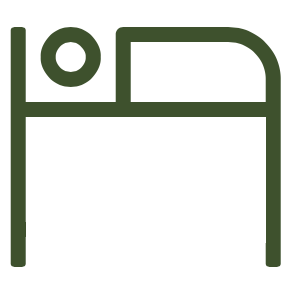 However, the attic offers one thing above all: the third and, with a good 32 m², the largest common room of Berghüttn Pruggern. This large room has another fully equipped kitchen with a fridge, but also a rustic table area with space for everyone staying in the house. Here, you can spend memorable evenings together enjoying each other's company. A large flat screen TV and a sound system are also provided. Opposite the aisle, there is another toilet, a practical pantry with a fridge for drinks and a waste bin. Finally, the floor offers a covered balcony with a wonderful view of the Enns Valley where you can also smoke.
Dishes
Plate / meat
Plate / soup
Dessert plate
Cereal bowl
Egg cup
Coffee Mug
GLASSES
Champagne glasses
Wine glasses
"Stamperl" for schnapps
Soda glasses / juice
Beer glasses / "Seidl" 0,3l

Beer glasses 0,5l

Wheat beer glasses
Pilsner glasses
CUTLERY
Knife
Fork

Spoon
Coffee spoon

Cake fork

Steak knife

Chef's knife

Bread knife

Kitchen knife

All-purpose knife

Paring knife
HOME FURNISHINGS
Thermostatic fittings in the showers
Drying room w. shoe / clothes dryer
50 m² sauna area / heat chamber
Barbecue area with stainless steel grill
Covered outdoor area with orig. gondola
Hut for skis / snowboards
Fireplace in the common room
Guitar / devil's violin
Wi-Fi
Underfloor heating throughout the entire house except in the bedrooms (radiators there)
Oven with ceramic hob
Dishwashers
Refrigertors
Freezers
Microwave
CLEANING SUPPLIES
Detergent
Dishwasher tabs
Tea towels, rags, sponges
Baking paper
Trash bags
Rooms
Hangers
Pillows 80 x 80 cm
Duvets 120 x 200 cm
BOWLS / ACCESSORIES
Kitchen bowl silver 29 cm
Salad bowl 30 cm
Salad bowl 24cm

Pasta sieve plastic

Small wire strainer
Measuring cup
Cooking utensils
Spaghetti spoon

Ladle

Peeler

Can opener

Whisk

Kitchen spatula

Vegetable slicer
Salt and pepper shakers

Pot holder

Oven glove

Scissors

Glass jug

Corkscrew / bottle opener

Thermos flasks / coffee

Gastro coffee machine 2 litres

Coffee filter
Thermos flasks / tea
TO TAKE WITH YOU
Food and drinks
When arriving, toilet paper, kitchen towels, sponges, etc. are only available to a minimum extend. Please bring them with you or buy them yourself at a local store.
UPON REQUEST
Linen and towel sets - against charge
Baby beds (2 pcs. available)
Your personal place of relaxation before and after an eventful vacation day and at the same time a great bad weather alternative!
The 50 m² sauna and relaxation area consists of a Finnish pine sauna, a pine infrared heat chamber, a spacious relaxation room with loungers, a shower area with a sauna bucket and a toilet.
So, you have every opportunity to relax in a private atmosphere, alone or with other members of your family / group. Is there anything better?
You will find instructions for self-service, of course.
In front of the house, a large, partly covered seating area with a stainless steel grill and our house gondola invite you to cosy barbecues. Enjoy the breathtaking view!
In the direction of the valley, there is a cosy BBQ place covered with glass. Built into a gabion, there is a 60 x 80 cm stainless steel grill with a fireplace. Barbecue with a view of the Enns Valley?
No problem!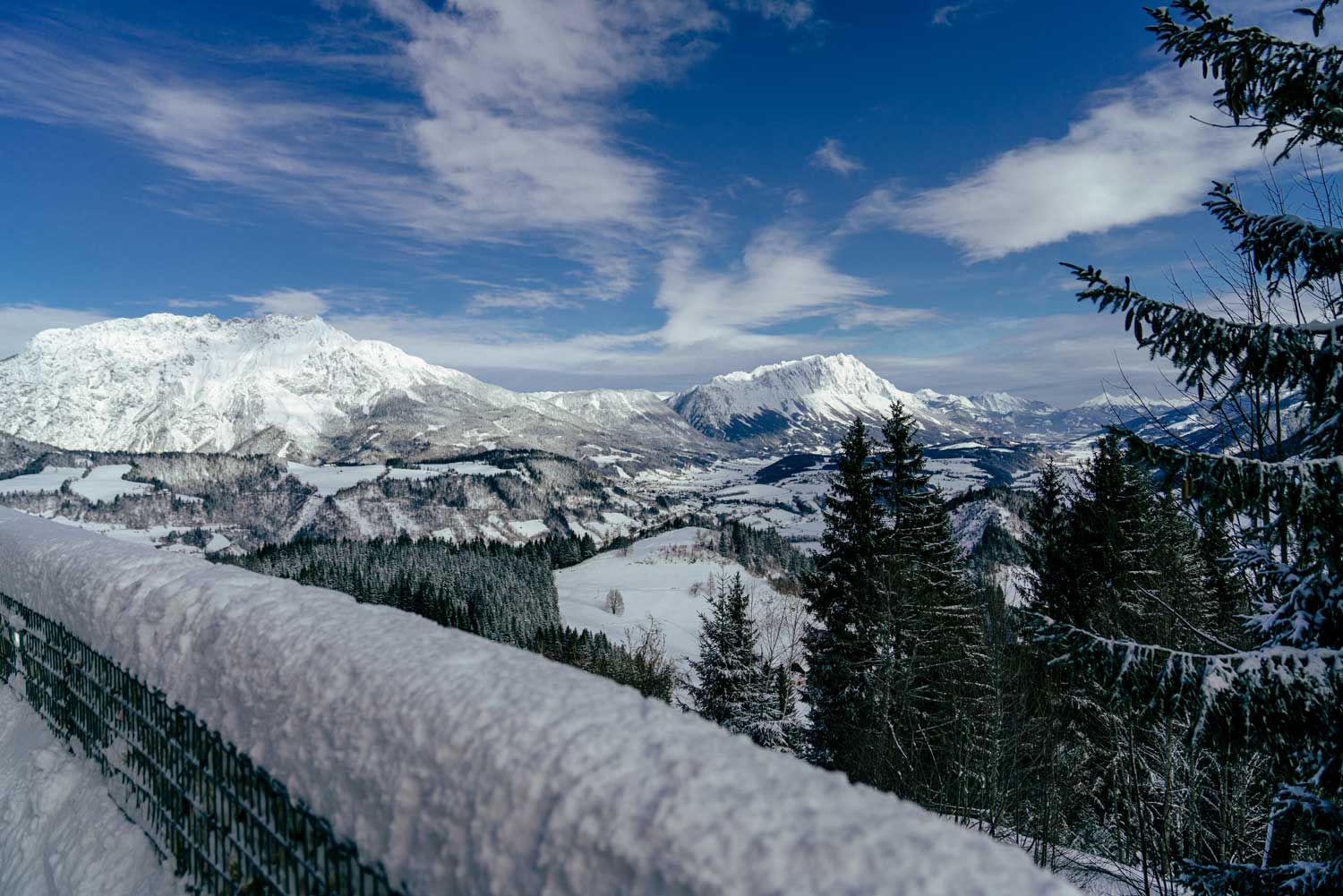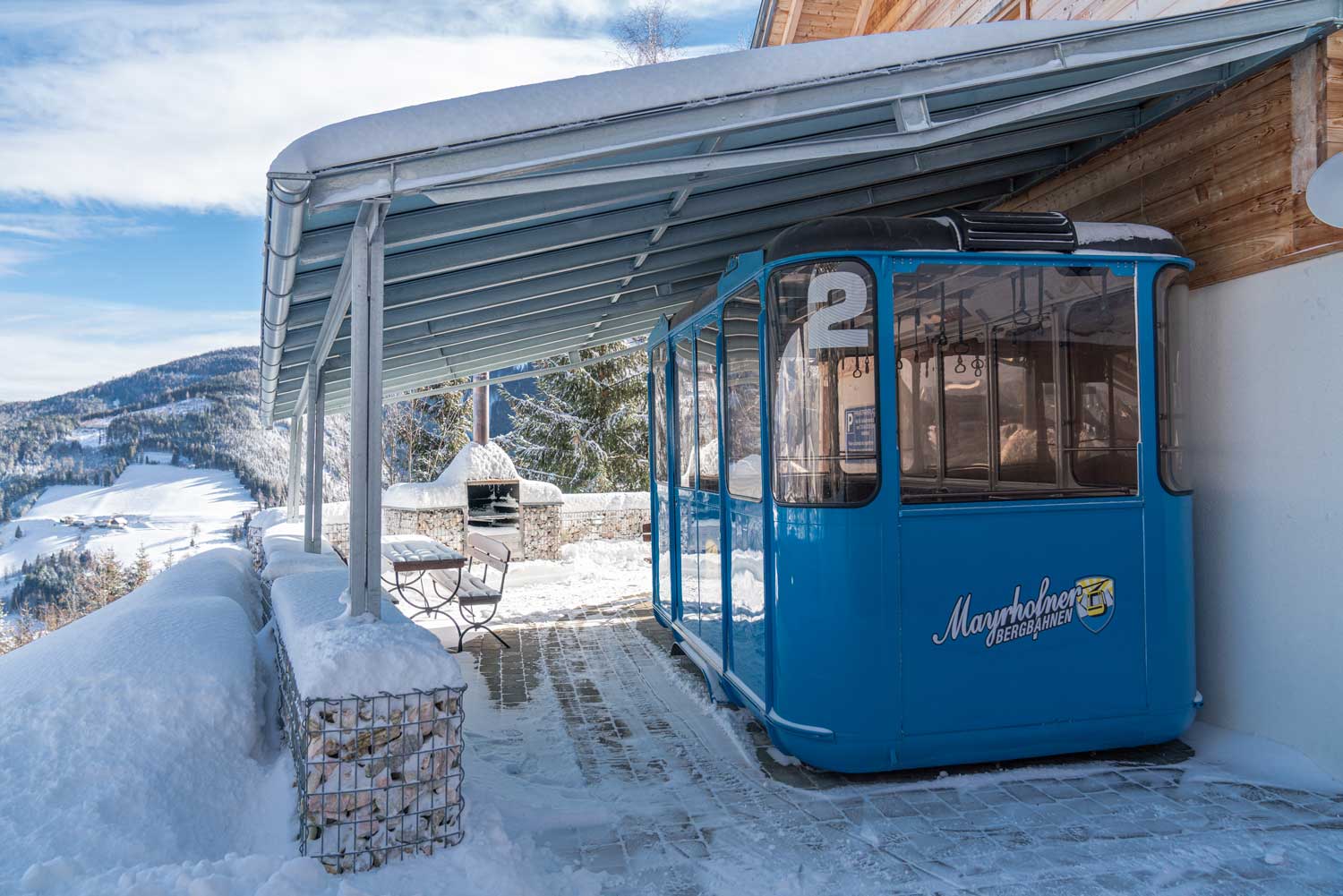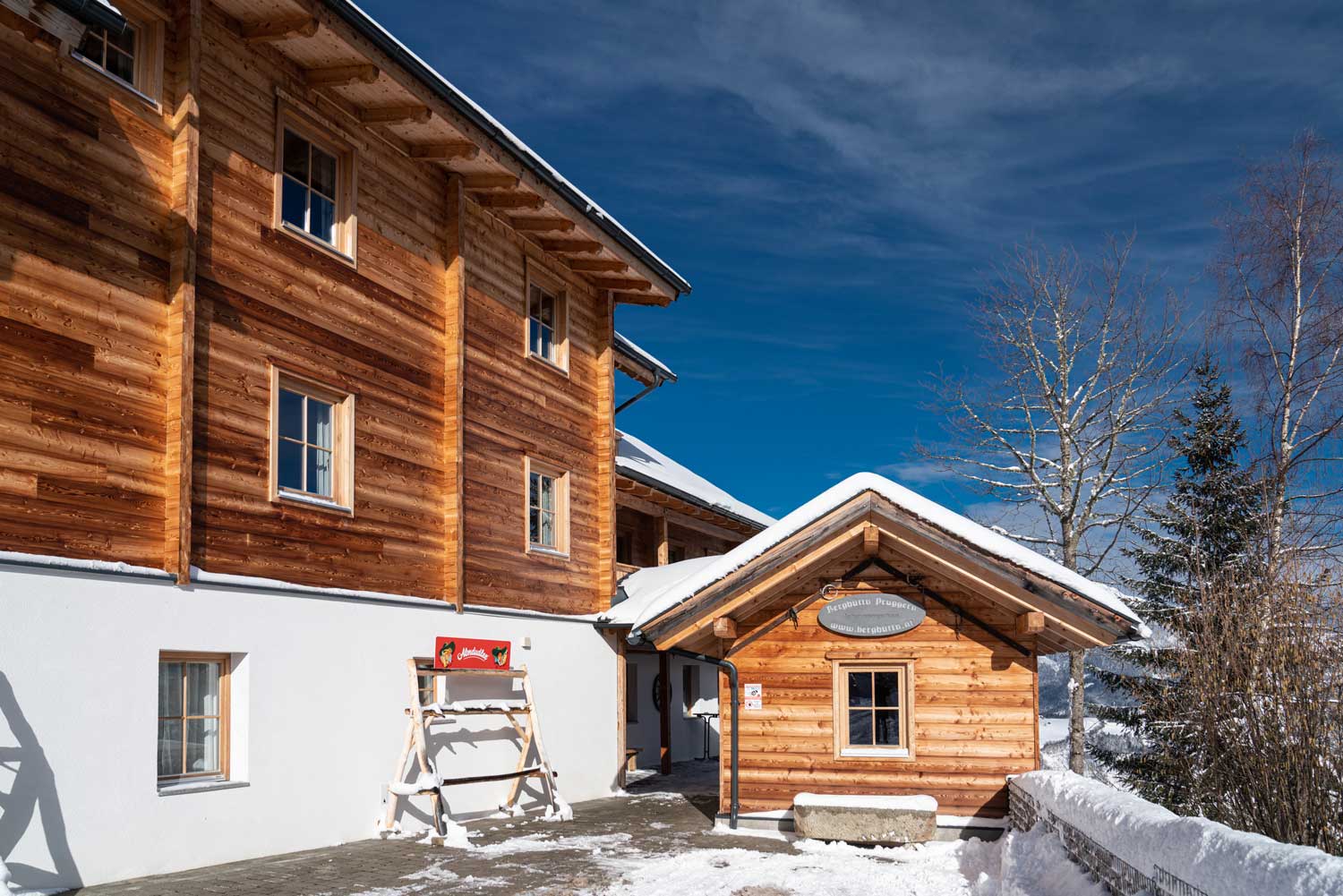 Here you will also find an original, completely restored mountain railway gondola built in 1967 (for 50 people), which is a rare attraction not only for children. The gondola is equipped with sound system and functions as a bar. It is heated.
The entire area around the house can be illuminated with lamps installed in gabions. This means that there is also a relatively large and protected area for children during the evening, while the parents have the opportunity to sit together in peace.
In addition to a special drying room for shoes and clothing inside the house, our guests also have a well-designed ski room and a separate hut for storing skis and other sports equipment. This very spacious room is located directly opposite the main entrance. You are welcome to use the assembly bench there to prepare your skis or mountain bike.
From a small holiday home built in 1974 on Pruggererberg in the municipality of Michaelerberg-Pruggern near Gröbming and Hauser Kaibling in the beautiful Enns Valley and the well-known holiday region of Schladming-Dachstein, a completely new, 480 m² self-catering house with modern amenities and a beautiful view towards the East was built in 3 years.
At the end of 2012, it was finally completed by the previous owner, Ralf Grützner, with his wife and father.
The current owner took over in 2020. Since then, Berghüttn Pruggern has been nurtured and cared for by him and his team with the friendly support of various acquaintances and partners in the region.
The house is about a 5-minute walk from the valley station of the Galsterbergbahn, right in the middle between the two villages of Dachsteinblick and Pruggern. This gives you direct access to the Galsterberg family ski area and the Gallic children's ski village.